Penny Wars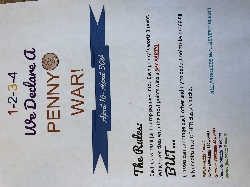 What

Penny Wars

When

4/22/2019
April 16th -30th! Each class has a jar to drop their pennies into. Each penny is worth 1 point. Whichever class with the most points wins a spy party!
Classes can sabotage each other and try to deduct points by dropping in sliver coins into other classes buckets.
Penny - adds 1 point
Dollar bill - adds 150 points
Quarter - Subtracts 25 points
Dime - Subtracts 10 points
Nickel - Subtracts 5 points

All proceeds will benefit BLES!
Copy to Google Calendar
•
Download iCal Event